Rower  Nick Trojan (LAHS '09) finished first in the Men's single lightweight sculls at the recent US Rowing Championships held at Mercer Lake in West Windsor, N.J.  Trojan will now represent the US at the 2017 World Rowing Championships next month in Sarasota, Florida.   Below is a the cued time of his winning race — although it's excitement is limnited by the fact that the announcer had the wrong guy winning the race. However Nick was pretty much in front the entire way. Click here to go to Nick's race.
The lightweight singles division had experienced racers firing everything they had throughout the week, and featured some of the closest finishes. In the end, Trojan pulled through over Matt O'Leary, Hugh McAdam and William Solberg.
"The race was good. I was a little optimistic this year after having taken, what, eight months off," said Trojan afterwards.  "I knew I didn't have a lot of candles to burn so the racing was all about efficient rowing rather than grinding speed. But I had to kind of carry on in the end there because Matt was coming back really strong in the last thousand."
Trojan is no stranger to the international competition.  He has previously qualified by winning the lightweight single sculls in the 2015 US World Championship Trials and the lightweight double sculls at 2013 World Championships Trials…
Chance Perez – the Griffin alum has stayed alive for the last two weeks on ABC's Boy Band and is now down to the final 7 going into this week's final episode.  (Two will be eliminated leaving the final five for the new teen-hearth throb Boy Band which will be given a name, perform its new song and make  Disney obscene amounts of money.)  The series began its summer run with 18 teenagers contestants.)  Here's a breakdown on Gossip Cop from two weeks ago and Reality TV for last week.  And here's his performance of Mchael Jackson's "Man in the Mirror."
Former Griffin standout Orlando Scandrick (LAHS '05), gave $15,000 to the Griffin football program to buy new uniforms.  Scandrick's generosity and acknowledgement of Los Al as his school has rankled a few up at Boise State who feel he should credit them as his school.
Junior RHP Darren McCaughan (LAHS '14)  was selected by the Seattle Mariners went in the twelfth round of this year's Major League Baseball draft.  McCaughan is a two-time Big West Pitcher of the Year, a two-time All-American and was a member of Team USA's 2016 Collegiate National Team. He had a 23-5 career record at Long Beach State, tying him for fifth in program history with his 23 career wins.  Also  picked by the Mariners was McCaughan's battery mate, catcher David Banuelos.  The pair have spent the last three seasons together as teammates in Long Beach.
Griffin volleyballer Justine Wong-Orantes (LAHS '13), who has been busy this past summer earning a starting spot on the US Womens National Volleyball team, gets her first chance to play in front of the home crowd when the US Women take on Brazil in the upcoming USA Volleyball Cup matches against Brazil on Aug. 27 and Aug. 29. A week later Wong-Orants and Team USA will begin play in the season-ending FIVB World Grand Champions Cup (WGCC) being held Sept. 5-10 in Tokyo and Nagoya, Japan.
Meanwhile Justin's former Griffin teammate Crissy Jones (LAHS '14) was selected to the pre-season All-Pac-12 volleyball team by the Pac-12 coaches.  Jones, who was the Southern Section Player of the Year in her senior year at Los Al, was a second team All-America selection last season.  Her Washington Huskies, the defending Pac-12 champions, were also predicted to win another Pac-12 title.
Sarah Ho — a member of the Griffin Class of '10 — is striking out on her own and has opened A LA Waffle at 10893 Los Alamitos Blvd. (across the boulevard from Hof's Hut).  A la Waffle features light delicious waffles of the Belgian variety in flavors ranging from blueberry crumble to cookie butter.  Everything is made from scratch — including the stuff that goes on top of the waffles, the granitas, macaroons, even the marshmallows for the S'Mores waffles.   The Granitas have become extremely popular with the folks who just finished a workout at the tae kwan do shop next door.  The store, is still in soft opening stage as Sara and her brother Kevin work out the kinks of opening a new business.  Here are A LA Waffle's Yelp reviews  and some more thorough reviews in a recent OC Breeze (at the bottom of a long article) and the Event. That's one of Sarah's popular S'mores waffles shown below.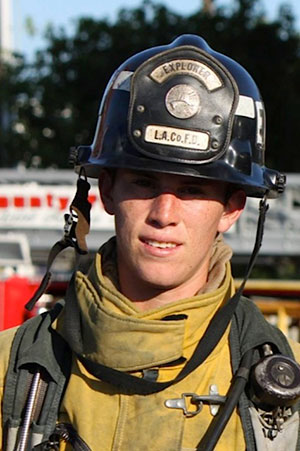 The 4th annual Kevin Woyjeck Memorial Saltwater Fishing Tournament is scheduled for Sept. 1.  Proceeds from the tournament go to assisting young men and women in Fire Explorer Programs with financial support and material donations.  Woyjeck (LAHS '10) grew up in Seal Beach and was part of Granite Mountain Hotshots, an elite firefighting crew that was overwhelmed by a horrific mountain wildfire on June 30, 2013.  Nineteen of the 20 firefgighters lost their lives that day.  Woyjeck was 21, and was the eighth  member of his family to be a firefighter.
After his death, his family started the Kevin Woyjeck Firefighter Explorers For Life to financially assist firefighters explorers.  The fishing tournament came about because while growing up in in Seal Beach Woyjeck often worked as a deckhand on fishing charters out of Long Beach when he wasn't going through fire training programs.  He then went on to various fire academies and wildland firefighting training programs.
REUNION NEWS:
Keith Jones of the Griffin Class of '82 tells us that Griffins from that year will be gathering this year at The Taste for Los Al on October 14.  A special area will be set aside for them to mingle, wax nostalgic and exaggerate their accomplishments.  The Taste is the largest annual fundraiser for Los Al High School activities and has become an unofficial reunion of sorts for many classes. Last year over 40 restaurants provided samples of their excellent and tasty fare and the  event raised over $200,000 to support Los Al activities — from ASB and Aquatics to vocal music and volleyball.  Tickets will be available at the Taste for Los Al page on  this website after September 1 (look in the right sidebar).   Click the drop-down menu and choose Class of '82.
reunion news