Both Boys and Girls Los Alamitos High basketball teams are looking for help as the Surf league enters its final games this Tuesday and Wednesday.
The Girls face Edison, a team they beat handily in the first round (66-29), but a Griffin win and a Corona Del Mar win over Huntington Beach would place those three teams in a tie for first place with all three teams having 4-2 records. Since only two teams in the four-team Surf league earn guaranteed playoff berths, and since the three teams all split their home and home games, it means you have to go a few tie-breakers into the list to determine a league champ. A Huntington Beach win tomorrow makes it all moot.
The Griffins dropped a tough match to Huntington Beach, 39-34, last Tuesday. The Oilers used a 1-1-3 zone defense, with man coverage on point guard Sydney Gandy, in the second half against the Division 1 Los Alamitos. That helped Huntington Beach outscore the Griffins 10-2 in the third quarter to open a 33-23 lead going to the fourth.
The ladies recovered their mojo to stomp Corona Del Mar 64-37 on Senior Night last Thursday.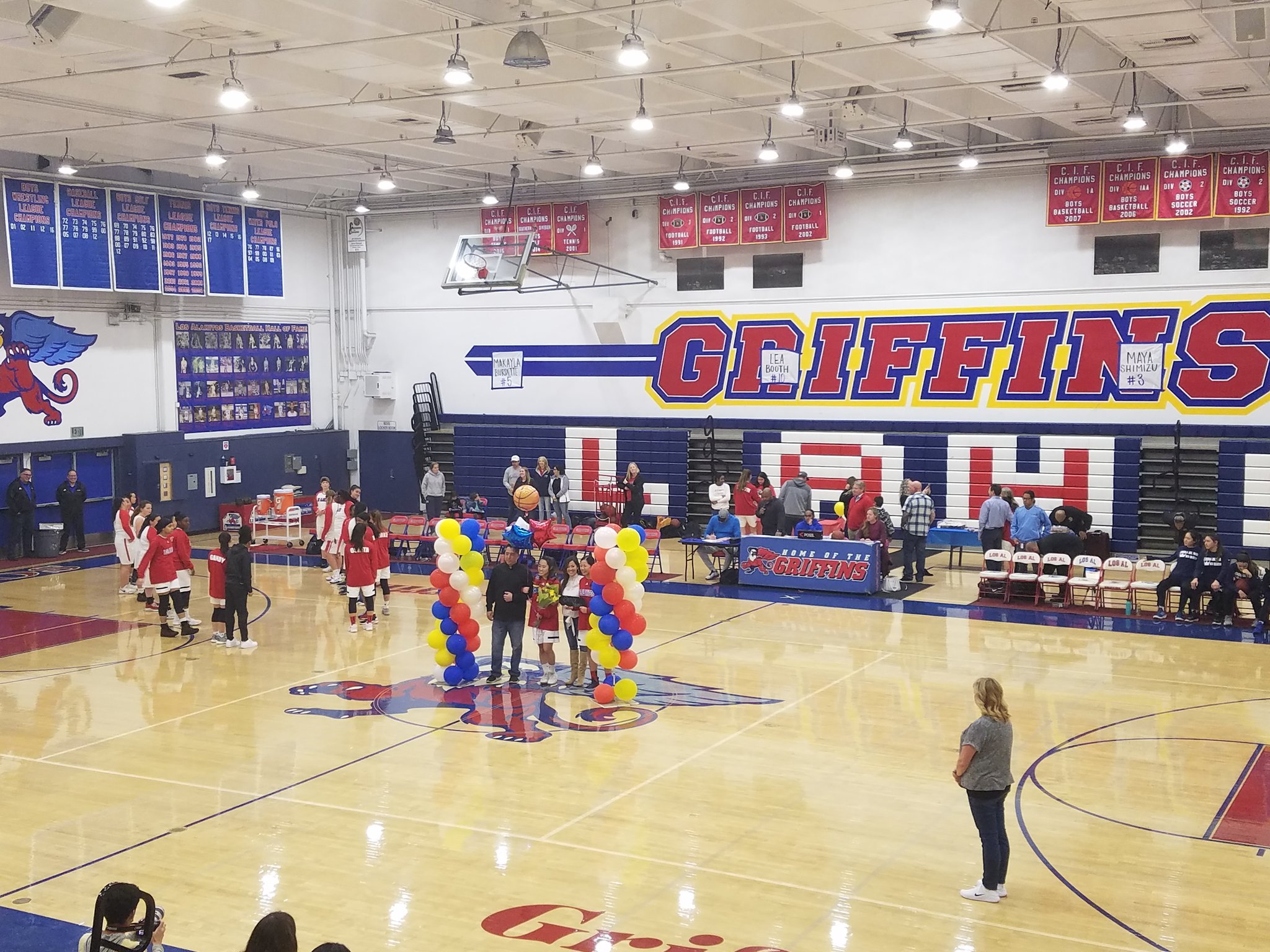 BOYS BB: Inconsistent Griffins still have chance at playoffs
The inconsistent Los Alamitos Boys Basketball team hopes to be on its A game when it hosts Edison Wednesday night with a berth in the CIF playoffs at stake.
The Griffins are 2-3 in the Surf League and a win over the rival Chargers and a Corona Del Mar victory over Newport Harbor would give the Griffins the second of the league's two guaranteed spots. The Griffins would get the tiebreaker by virtue of their first-round win over the Chargers, and a Newport Harbor loss to Corona Del Mar would give the Sailors a 2-4 league record — advantage again to Los Al. [Standings here.]
Judging by their overall record of 9-16 The young Griffins with their 9-16 overall record would seem to be out of their class against their Surf league opponents. CDM is 18-8, Edison is 18-9 and Newport Harbor still sports a 23-4 record. But the Griffins successive upset wins over Edison and Newport Harbor (thanks to a 3-pointer by freshman Tyler Matthews, see below))put them right in the middle of things.
Which Griffin team will show up Wednesday? Coach Eddie Courtemarche hopes it's not the team that fell 87-53 to Los Altos of Hacienda Heights on Saturday, or the team that fell to Rolling Hills Prep at the MLK Hoopfest last Monday.
Girls Soccer: Griffins clinch Surf League title with 4-0 win over CDM on Senior Night.
The Los Alamitos Girls soccer team improved its record to 20-0-5 and clinched the Surf League championship with a 4-0 win over Corona Del Mar last Thursday night on the Griffins turf field. (Full Instagram report below.)
Goals were scored by Paige Thompson, Colby Barnett, Analisa Gjonovich, and Jayden Newkirk.
The Griffins finish their regular season with a road game at Edison on Tuesday.
LOS AL GOALS: Paige Thompson (27th minutes; header goal off corner kick!!); Colby Barnett (31st minute; pass from Nicole Barham, takes a touch across the 18 and places it in the back of the net); Analisa Gjonovich (45th minute; PK after Colby Barnett ws fouled in the box); Jayden Newkirk (
76th minute; scores off of Ana Gjonovich's free kick)
Water Polo: Griffins go 2-2 at Irvine SoCal Championships
The Los Alamitos Girls Water Polo team finished in 11th place at the Irvine
Irvine SoCal water polo championships last weekend.
The Griffin women downed Redondo Union 11-4 on Thursday, but fell to San Marcos by the same score in the second round match.
In Friday's action consolation bracket. the Griffins downed Santa Margarita 11-7, but then dropped a tough 7-6 match to Surf league rival Newport Harbor.
Top-ranked Laguna Beach confirmed its lofty ranking by capturing the tourney title, downing Orange Lutheran 8-7 in the championship match. The Irvine-SoCal event is the last major water polo tournament before the start of CIF Southern Section playoffs next week.
For complete information on the tourney results and lots of posts written by dads who have way too much time on their hands, check out this thread at waterpoloplanet.com. .
QUEEN OF COURTS: Mia Lopez named Queen of Courts