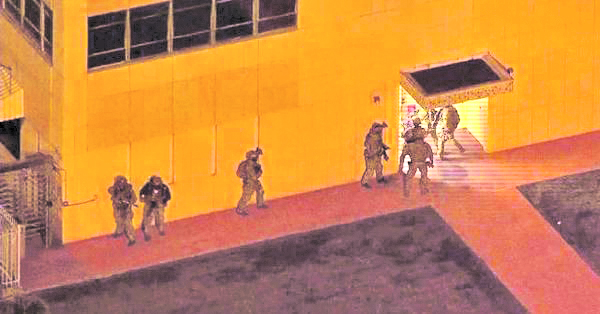 By David N. Young – Even though the Joint Forces Training Base in Los Alamitos tried desperately to get the word out to the community in advance, training exercises that brought helicopters and special ops forces to Los Angeles and Long Beach prompted a flurry of television and online speculation last week. According to a JFTB press release issued before the training, "a visiting U.S. Army aviation unit will conduct training exercises and night flight operations at Los Alamitos Army Airfield (LAAAF) from Feb.3 thru Feb. 9."
By David N. Young – Art Garcia, a well-established Los Alamitos restaurateur, finally received his "Citizen of the Year" award this week as the Chamber held its monthly networking breakfast.
Among other community activities, Garcia is best known for his annual feeding of a steak dinner with all the trimmings to gravely disabled vets in the Veteran's Administration Hospital in Long Beach on Christmas Day.
McAuliffe Middle School has honored Lee Nestlerode as its 2019 Hero of the Heart for his 13 years of volunteer service in transforming the sound systems for the school's choir, band, and drama programs. Shannon Wallace, who directs the McAuliffe choir program, said that when Nestlerode first volunteered, "our program had only 60 students, a couple of computer speakers, and a microphone." Nestlerode, who had two children then attending McAuliffe, assembled a new system out of parts he cobbled together…
Rossmoor Elementary has honored one of its own as its 2019 Hero of the Heart for her years of service to the school. Janet Murphy, who attended Rossmoor as a child, has volunteered in many capacities for nine years. In presenting Murphy with her award before the Los Alamitos Unified School Board, Principal Amy Belsha said she "one of a kind and truly believes that the partnership with the community, parents, and teachers is crucial for us all to provide unlimited possibilities for all our students."
The woman responsible for putting food on the trays for students at Rossmoor Elementary has been honored as a Classified Employee of the Year by the Los Alamitos Unified School District.
Imelda Hernandez, who has worked for the district for eight years, "cooks and serves, but she also brightens the room with her warm smile," said Celeste Calubaquib, Food Services Director for the district.