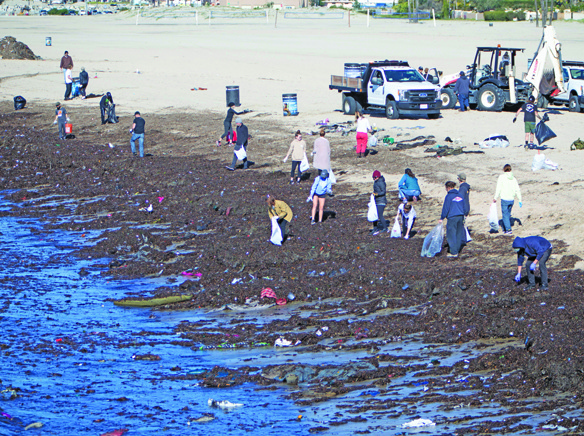 With recent rains sending even more trash down the rivers to temporary residence on our local beaches, Save Our Beach held its regular monthly beach clean up Saturday, Feb. 16, in Seal Beach. The volunteers for that clean up event will likely find much trash on the beach sand and the rip rap on the jetty.
The City Council this week unanimously approved an amendment to the Orange County Fire Authority's joint powers agreement that formalizes the fire agency's commitment to pay down its pension deficit. This amendment, the fourth to the Fire Authority's joint powers agreement, was an item on the Consent Calendar.
Opinion: Chamber thanks Sidewalk Sale participants
The  Seal Beach Chamber of Commerce  thanks all the particpants in the Satururday and Sunday, Feb. 16 to 17, Main Street Sidewalk Sale. – Anderson Brothers Design & Supply; Applegate Plumbing & Heating, Bay Hardware, Beach Burgers and Brews, Beach Cottage Day Spa, Beach Fitness, Beachwood BBQ, BlueSea Care Services, Bogart's Coffee House, Charo Chicken, Christian Science Reading Room, California Seashell Company, Endless Summer, Gelato Italyano, Finbar's Italian Kitchen, Flipside Beach Boutique, Harbour Surfboards [see more]
Join us again for our next Sidewalk Sale – September 21st & 22nd
On Tuesday, Los Alamitos High girls soccer team defeated Newport Harbor, 2-0, at Newport Harbor to advance to the semifinals. Los Alamitos will travel to Harvard Westlake on Saturday to play for a spot in the championship game on Feb. 23.
Friday, February 2 – Traffic Stop (Priority 4)—10:01 a.m.—Seal Beach Boulevard and Westminster Avenue—Police unit M7 stopped a car. Based on warrants, police arrested Francine Lusia Herard on suspicion of battery and suspicion of driving under the influence of alcohol. As the call was officer-initiated, no response time was provided. Units 106 backed up unit M7. A third unit, 141, was available for back up but apparently did not participate. Police unit M7 was on-scene for 1 hour 54 minutes 1 second. [More]