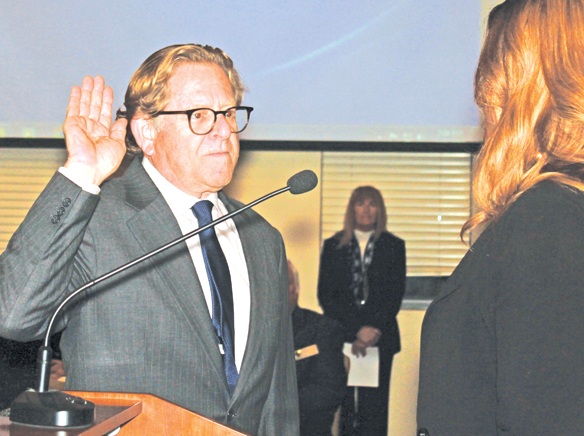 Joe Kalmick was sworn in as the District One representative on the City Council Monday, Feb. 25. Among his first acts was to request an update on the First Street realignment near the former DWP property, and he also recused himself from a public hearing on floodplain management and the sandberm contracts because his home was near the areas in question.
The Seal Beach City Council is being advised to take another look at the lease agreement for the First Street restaurant building at the former location of the River's End Cafe. The construction of the new Beach House has met with construction delays on the part of the city, and Coastal Commission rulings regarding the necessity of a new permit for the site.
The intrepid reporters at the Seal Beach Sun have dug up new information about the origins of a series of controversial campaign ads that came out in the weeks before the Jan. 29 mail-in ballot election. The ads accuse eventual winner Joe Kalmick, a longtime resident and former business owner, of threatening behavior and point to inconclusive surveillance video showing Kalmick frustrated with filing paperwork during a visit to the City Clerk's counter at City Hall last July.
Crews began working on First Street last week as construction work has commenced on the Shea Homes' "Ocean Place" project at the former DWP property. Assistant City Manager Patrick Gallegos said Shea Homes implemented a closure from Marina to Center Way to install a water line.