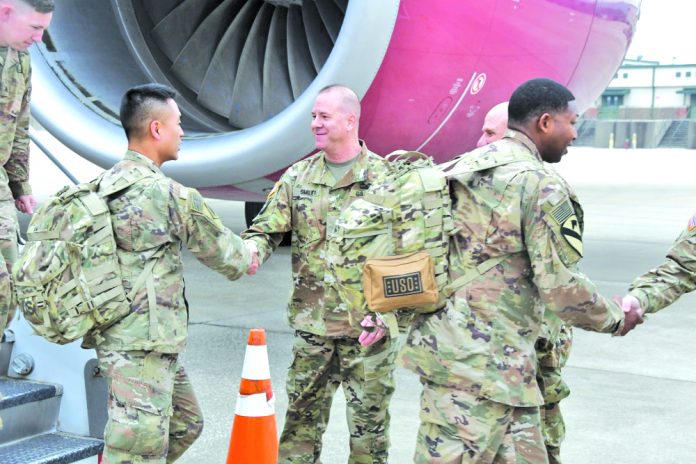 By Capt. Jason Sweeney, California National Guard – Nearly 100 Soldiers from the California National Guard's 40th Infantry Division, based at Joint Forces Training Base in Los Alamitos, returned to U.S. soil March 1 at Fort Hood, Texas, after successfully completing a train, advise and assist mission in Afghanistan.   The Soldiers will spend about a week on Fort Hood out-processing before returning home to family and friends in California.  Read more.
---
St. Hedwig Catholic School- girls varsity basketball went 11-0 this season and were the PAL (Parochial Athletic League) Coastal League Champs and PAL Diocesan Champs. Pictured, back row from left, are coach Erin de Lucia, Olivia Hertzog, Brianna Wright, Brooklyn Soto, Juliana Stepanoff, Grace Maxwell, Julia Reusch, Izabella Gwizdak and coach Brandon Cable. Front, Marina Squillace, Sophia Lim, Madison Roach, McKayla Cable, Brooke Wronski, Tessa Hurley, Sofia de Lucia, Mylee Walland Karly Padova.
---
Los Alamitos Race Track in Cypress has agreed to host Thoroughbreds for training there for while Santa Anita's racetrack works through a host of inspections and other concerns following a rash of equine fatalities in recent months. Los Al Race Track official Orlando Gutierrez said on Friday that approximately 50 Santa Anita Thoroughbreds were currently training at the Cypress track.  "We're doing everything we can do to assist," said Gutierrez. Santa Anita announced last week that there will be no racing or training at their track until further notice while track consultant Dennis Moore conducts a study on the surface.  Read more
---
Pulver to take reins of LAUSD April 19
Dr. Andrew Pulver, who has been selected as the new Superintendent of Los Alamitos Unified School District, will take over on April 19, 2019, the district announced this week. He will succeed Dr. Sherry Kropp who has led the District for the past eight years.  Pulver is a 20-year veratarn of the Los Al school system, beginning as a teacher and then assistant principal at McAuliffe Middle School, and later Principal at Lee Elementary, before becoming Assistant Superintendent of Human Resources for Los Al USD.  Diana Hill, President of the Los Alamitos Unified School Board, said Dr. Pulver was selected because he "is an outstanding educational leader with a proven track record of successfully leading exemplary programs and services for students, while enhancing relationships and building positive teams.
---
By Brooklynn Wong — La Palma has just received a "really good report card; the kind of numbers you hope to get" from its residents, said research consultant Dr. Timothy McLarney last week.   McLarney's firm, True North Research, Inc., is routinely hired by cities and other organizations to evaluate performance and assess needs.  In November and December, a survey was conducted amongst La Palma residents to get an idea of things like how happy they are with La Palma as a place to live and work, and whether city staff is accessible and effective.  Read more