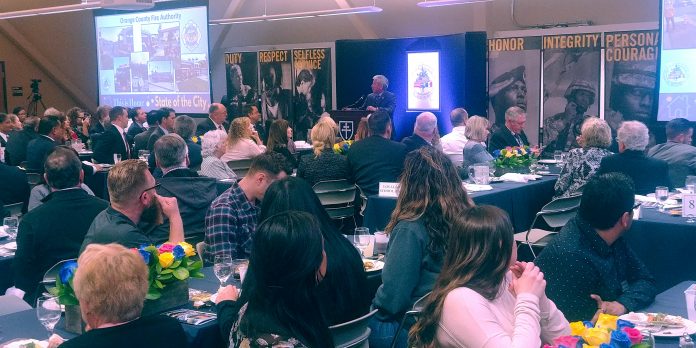 Los Alamitos Mayor Warren Kusumoto's delivered his first ever ""State of the City" address to a packed house in the main banquet hall of the 79thTheatre Sustainment Command on the Joint Forces Training Base in Los Alamitos on Wednesday. This year's theme was Los Alamitos, "this is home" and it included a video featuring citizens, businesses and comments from local elected officials.
---
A Los Alamitos man has been killed in a snowboarding accident after apparently snowboarding in the mountains on a back-country trail near Mammoth Mountain ski resort, according to the Mono County Sheriff's Department.  Officials say Justin Khoshnevis, 32, was apparently snowboarding in a remote area at the time of the accident. Reports also say eyewitnesses saw the snowboarder falling from the cliffs above Twin Lakes, Mono County Sheriff's Office reported. He was alone at the time of his death.
---
Family Day offers glimpse of Sunburst transformation
By Senior Airman Crystal Housman – Nicholas Nygryn stands under the canopy of his family's picnic tent March 16 and turns to his mother.  "Since when have I ever been a 'pleasure in class'?" Nygryn asks with an expression and delivery that is equal parts excitement and surprise.  Moments earlier, the Buena Park teenager introduced one of his teachers from Sunburst Youth Challenge Academy to the twenty-or-so family members who joined him at Joint Forces Training Base, Los Alamitos, California, for the academy's Class 23 Family Day.
---
A team of four Los Alamitos High School AP Chemistry students has placed 6th out of 45 Orange county schools participating in the annual American Chemical Society exam competition. That is Los Alamitos High's best performance in many years, said AP Chemistry teacher Tim Jones. In addition, one of the team members, sophomore Andy Fong, ranked 10th among all students in the county who took the special, rigorous exam. He will go on to compete nationally next month.
---

The Los Alamitos High School varsity cheerleading squad was honored by the district school board for winning a Division 1A championship in the first year that the California Interscholastic Federation established cheerleading as a competitive sport.