Rachel Fattal (LAHS '11)missed the title match due to illness, but for the rest of the Pan-Am, games, she played a key role to help the US Women to another water polo gold medal at the Pan-American Games in Lima, Peru.
Team USA finished play in Peru 6-0 outscoring opponents by a margin 142-24. Fattal scored three goals against Cuba and again in a pool play win over Brazil.  To keep thing interesting she even got to play a little goalkeeper in the win over Venezuela.
Both Rachel Fattal and @melseidemann played goalie today in Team USA's win over Venezuela. They talked postgame about what it was like to be in the goal instead of @theAshJohnson. #Lima2019 pic.twitter.com/73HQAVfSBL

— USA Water Polo (@USAWP) August 6, 2019
Fattal did get to play in a recent championship game, though. A week before the Pan-Am competition began, she scored a goal as the US defeated Spain to win the 2019  FINA World Championships, and clinch a berth in the 2020 Tokyo Olympic Games.
Incidentally, the US Women have now won 58 straight contests — believed to be the longest water polo win streak by a national team.
The tables are turned and now @melseidemann is asking questions to Rachel Fattal about what it feels like to win 🥇 pic.twitter.com/KvGm8ypHO8

— USA Water Polo (@USAWP) July 26, 2019
---
VOLLEYBALL
Julia Patterson (LAHS '16), who was the Pac 12's leader in doubles last season returns for her senior season for the No. 24 ranked Wildcats.
The 2018 Pac-12 leader in double-doubles is back to reclaim her crown 👑#Dedicate || @juliapatt23 pic.twitter.com/41p31THGtL

— Arizona Volleyball (@ArizonaVBall) July 23, 2019
---
Beach & Snow Volleyball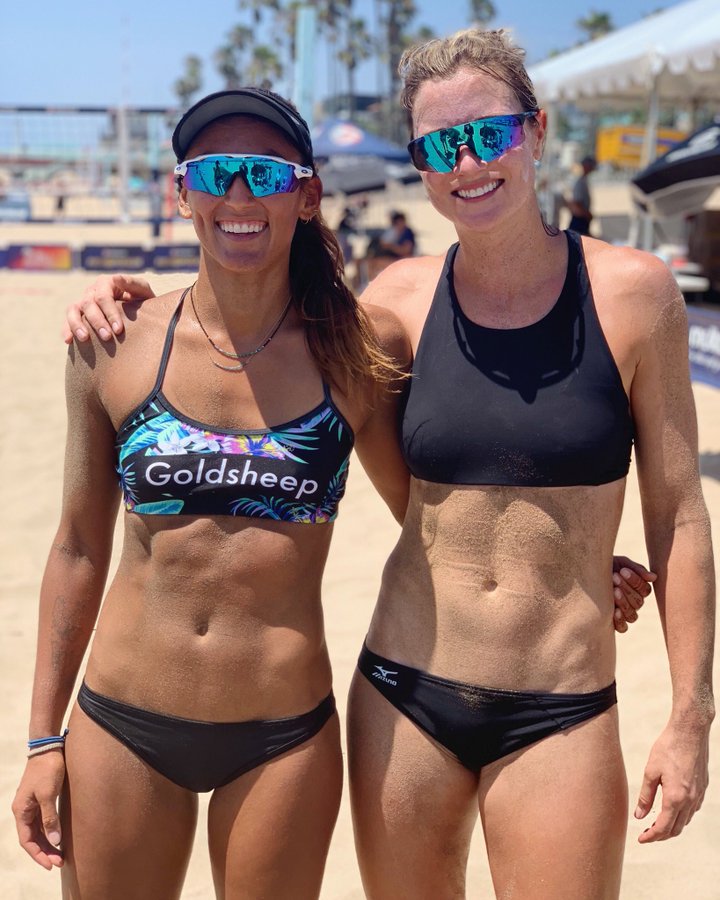 Former Griffins Geena Urango (LAHS '07) and Emily Hartong (LAHS '11), both top-line players on the pro women's beach volleyball tour, had a chance to play some games together when the two former Griffins teamed up to play at the AVP Hermosa Beach in mid-July.
Unfortunately, the two former Griffins were upset in their first round Friday match.  However, another former Griffin, Crissy Jones (LAHS '14) and her teammate Susie Muno, reached the semi-finals of the Contender division before falling.  Complete results are here.  Jones and Muno will also be competing at the upcoming and ultra-competitive Manhattan Beach Open (the US Open of Beach Volleyball), and got nice mention in Volleyball magazine's preview of the event..
Jones, a 4-year starter and a second team All-American player at Washington, played a fifth year of beach volleyball last Spring for Cal Poly SLO.  She and teammate Tia Miric were named the Big West Pairs Team of the Year, and both were named AVCA Beach All-Americans.
A few weeks after playing at the warm beach temperatures, Hartong was again part of the US's snow volleyball squad which played at the Bariloche tournament in Argentina.  The US Men won gold, but the womens team of Hartong, Karissa Cook, Emily Katie Spieler and Allie Wheeler tied for fifth after losing 2-1 to Argentina in the quarterfinals (15-9, 8-15, 15-13).
---
Former Griffin Justine Wong-Orantes (LAHS '13), who was the starting libero for the US Women's national team which won the Pan-American Cup in early July, added another gold medal to her collection when her Team ABX won the women's championship at the 57th annual 6-Man beach volleyball tournament.