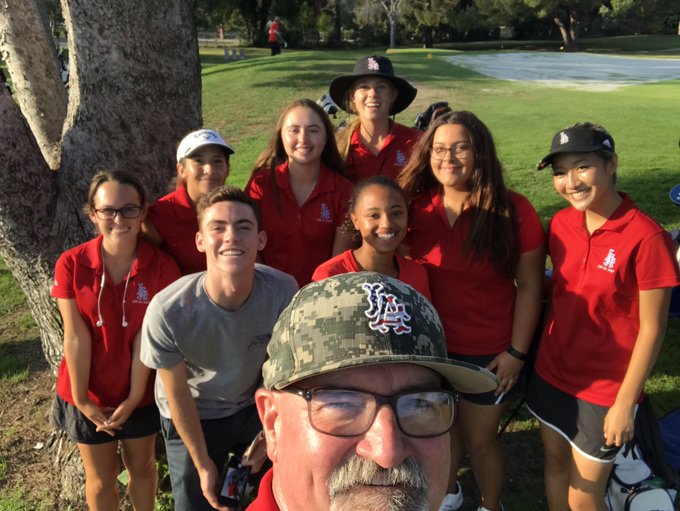 The Los Al Girls Golf team racked up its 11th straight win without a loss, defeating Peninsula 203-222 at Rolling Hills Country Club.  Sophomores Kylee Gregory and Andrea Camacho led the way with a pair of one-over 37s.
The Griffins hope to extend that streak with a Surf League match against Edison today.
Coach John Haygood's Griffins won the Surf League championship last year, and despite the return of some experienced players led by senior Maddy Murr, and juniors Janelle Abbott and Eunice Yoon, there were question marks over whether their younger players would step up.
Those questions were quickly answered. In their season-opening match on August 27 when sophomore Gregory led the way to a 205-231 win over Cerritos, medaling with a one-over par 38.
They followed the up with a 109-207 over Wilson with Camacho, taking honors with a one-under 37.  Freshman Kate Younger was right behind with an even-par 38.
Since then the team has racked up a four-way win over Fountain Valley, Poly, and Wilson, another dual win over Wilson, and Costa Mesa.
Last week the Griffins recorded a Sunset League crossover win over Marina 195-231 with Murr's's two-under 34 earning medalist honors on the Old Ranch course.
Earlier this week, the Griffins 10-0 defeated Millikan 209-252 at El Dorado Park.  Gregory, Younger, and Camacho shared medalist honors.
The Griffins 11-0 defeated Peninsula 203-222 at Rolling Hills CC. Kylee and Andrea medaled with 37's. @LosAlAthletics pic.twitter.com/kOr29xoCkF

— Los Alamitos Golf (@Losalgolf) September 19, 2019