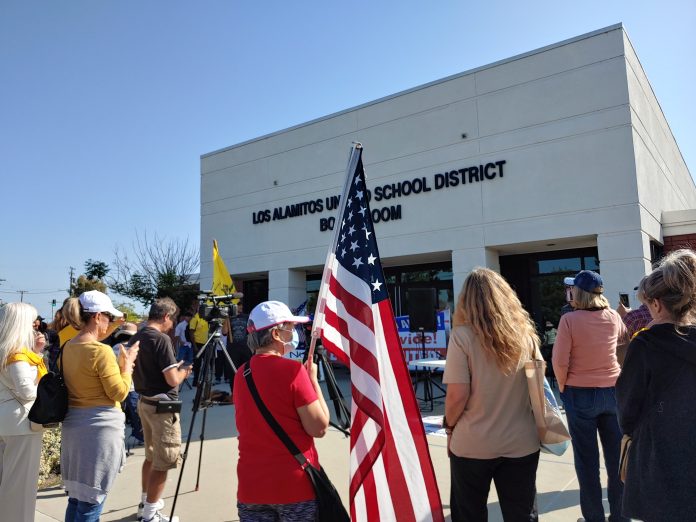 The Rossmoor Community Services District Board of Directors voted 3-2 Tuesday to allow the Orange County Department of Education to rent a community facility to discuss a politically charged topic that many residents fear will bring unnecessary danger to their sleepy, bedroom community.
At issue was whether to allow the OC Education Department's Board to rent the Rush Park auditorium to hold Community Forums about Critical Race Theory, a loosely defined topic that has suddenly… [more].
---
Los Al adopts 2021-22 Fiscal Year budget of $20 million
Following an exhaustive review of its proposed $20 million 2021-22 budget, the city council voted unanimously to adopt the new spending plan that restores many previously frozen staff positions and creates a capital improvement plan to restore many projects previously on hold.
According to Mayor Mark Chirco, the city's plan adheres to the fiscal sustainability pledge yet does reflect a city again on the move.  [more]
---
As he exits the principal's office at Los Alamitos High School this week, Dr. Gregg Stone is more convinced than ever that he is taking with him much more than he gave, which was significant indeed.  And with four decades of inspiring leadership in education, Stone has never lost sight of why he became a teacher those many years ago.  [more]
---
Casa Youth Shelter is proud to announce it has been selected as a 2021 California Nonprofit of the Year by Senator Tom Umberg representing Senate District 34.
"I am proud to award such an incredible organization with this annual honor. Casa Youth Shelter has helped countless children and families overcome difficult times by providing them with comfort, safety, and a continuously supportive community. The 34th Senate District is lucky to have Casa as [more].
---
On May 24, the Cypress City Council held a workshop to discuss the possible funding sources that should be pursued to maintain Lexington Park which is the nearly completed park at the corner of Cerritos Ave and Lexington Dr. It was reported in the workshop that the City needs $350,000 each year to cover the maintenance costs for the park. The $350,000 is made up of two components: $223,000 for operations and $127,000 to fund a reserve for future replacement/rehabilitation costs. As such, the city needs to seek a significant amount of … [more]
---