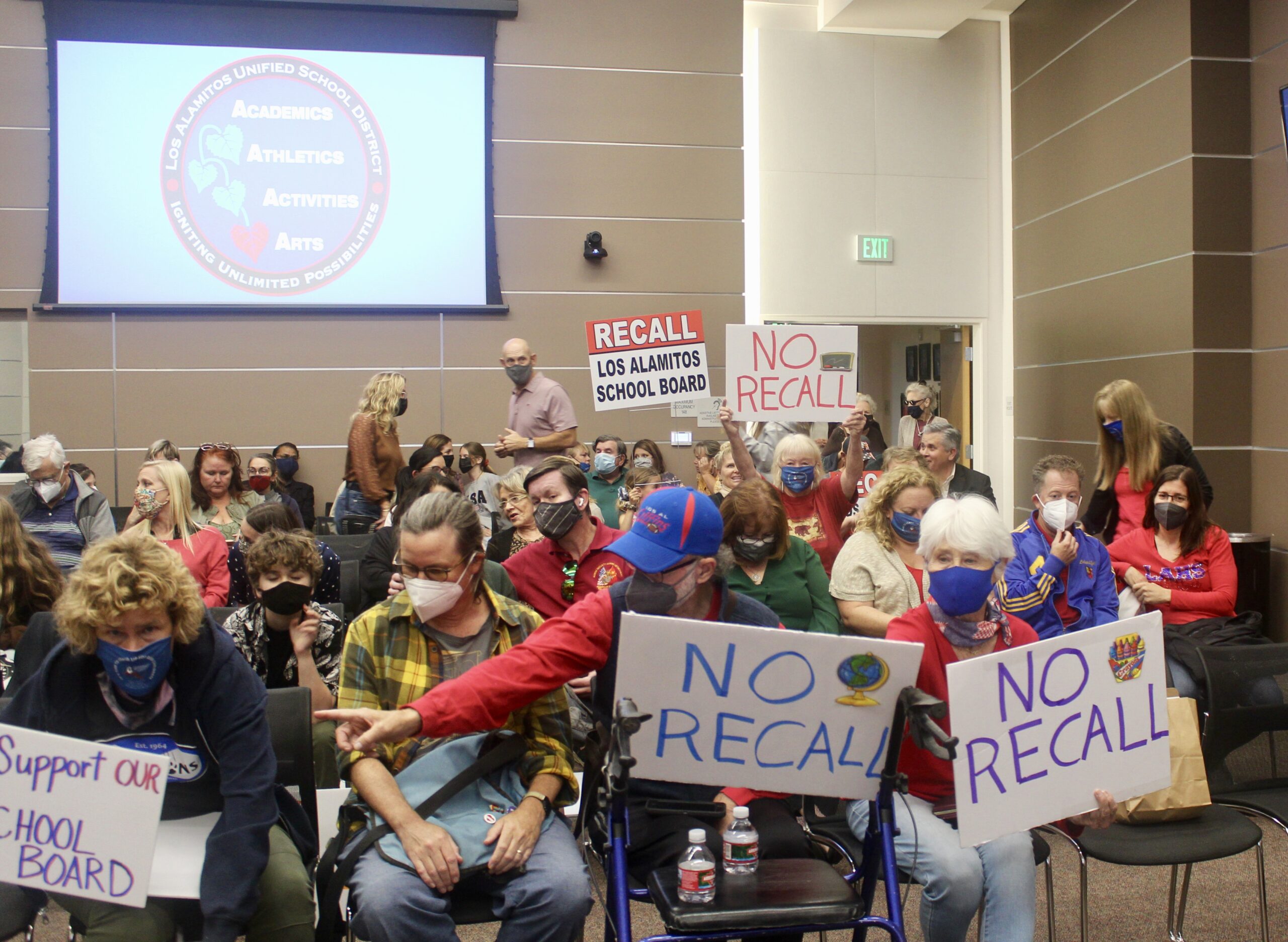 In front of supporters and opponents, 3 LAUSD Board of Ed Trustees get recall notices
By Jeannette Andruss.  A recall drive against three trustees on the Los Alamitos Unified School District Board of Education has officially launched as has a vocal group's effort to stop it.     Board members Megan Cutuli, Chris Forehan and Scott Fayette were given the notices of intention to gather signatures for a recall during the Sept. 28 board meeting.
It happened in front of an overflow crowd that included students, teachers, parents, community members and political activists of various viewpoints.
---
Los Al Healthcare heroes named at Heroes Appreciation Luncheon
For the first time, the "Heroes Appreciation Luncheon" included medical "heroes" in its annual appreciation event.
Included in this year's awards were two presentations to medical heroes that had distinguished themselves in the medical profession during the ongoing pandemic.
"When most of us think of heroes, we think of a cake, a badge, and our great servicemen and women, but the COVID-19 pandemic has shown the world that heroes come in many forms," said Los Alamitos Medical Center CEO Kent Clayton.
---
Local officials are watching a massive oil spill off the California coast which prompted the cancellation of the third day of the Pacific Airshow, and also prompted Huntington Beach Mayor Kim Carr to warn of a potential "environmental catastrophe."
More details became evident this week, including that the spill actually occurred Friday evening and the public was not notified until Sunday.
Ironically, while aviation experts on ABC7 were calling Saturday's air show perhaps "the greatest airshow in the world," there was a …  [more]
---
Despite challenges, the ever popular "Taste for Los Al" school fundraiser, according to organizer Larry Strawther, is back this year, holding a delicious in-person event Oct. 9 at the Shops at Rossmoor.
"I know it will be a crazy weekend with the Seal Beach Car Show in the morning and then our event in the evening, but it should be a fun and successful day for all of us," said Strawther.
---
Soprano Sangeeta Kaur, matriarch of Seal Beach Symphony, becoming a spiritual star
In a world where we are all searching for inspiration, Sangeeta Kaur, a star soprano with an angelic voice, has transformed musical expression into a powerful force for good.
Kaur has found a way to transcend traditional opera to create a spiritual experience that has captivated a unique, and growing segment of today's music market.
"I'm a believer in ancient wisdom," she says, "and there is something in my heart, something in my mind, something in my being…and my soul knows that none of this is just an accident."
---