The Los Al Girls softball team will play St. Francis in the semi-finals of the Michelle Carew Classic on Friday night at 3:15.
The Griffins started the Tournament with a pair of wins in Wednesday's opening rounds.  In the first match, the Griffins downed Gahr 4-2.  Sophomore infielder Isabella Rodriguez went 2 for 2 with an RBI for the Griffins.
The Los Al Girls softball team advanced to play El Camino Real of Woodland Hills who had defeated Carlsbad 5-3 in eight innings.  El Camino jumped out to a 4-0 after one and half innings, but Los Al cut it to 4-3 after three innings, then broke it open in the last two innings to down El Camino Real 10-4.
The win earned Los Al a day off and a spot in the gold bracket quarter finals at Peralta Park while most of the other teams played a Friday match to see who else advanced.  But by the time Friday's dust settled, all eight quarter final teams were set.   Other gold bracket matches are Villa Park vs.  Orange Lutheran, Las Vegas Centennial vs. Norco, and host Canyon vs. South Torrance.
In either case the game is at 3:15 on Friday.  A win would advance Los Al to a Saturday morning semi-final match against the Canyon-South Torrance winner. A loss would require Los Al to stick around and play a 7:30 contest in the 5th place bracket.  The championship game is 7:30 Saturday Night at Peralta.
BASEBALL
The Griffins, who played Esperanza to a 3-3 tie in their match at Anaheim Stadium on Wednesday night, return to Sunset Surf League play today with a home game against Fountain Valley.
BOYS TENNIS
The Griffins Boys tennis team downed Fountain Valley 10-8 to improve its overall record to 6-3-1 and its Surf league record to 2-1.  The team returns to action on Monday at Corona Del Mar.
Los Al wins a tough match against the Barons 10-8! https://t.co/KOuPE1GhlS

— Los Al Athletics (@LosAlAthletics) April 1, 2022
In other Los Al action, Girls Lacrosse fell to Edison 19-5.  Result so the Los Al Track meet were unavailable.
---
POST-SEASON HONORS:  Sophs Kayli Liew and Elise Marquez named to All-Surf League Girls Basketball first team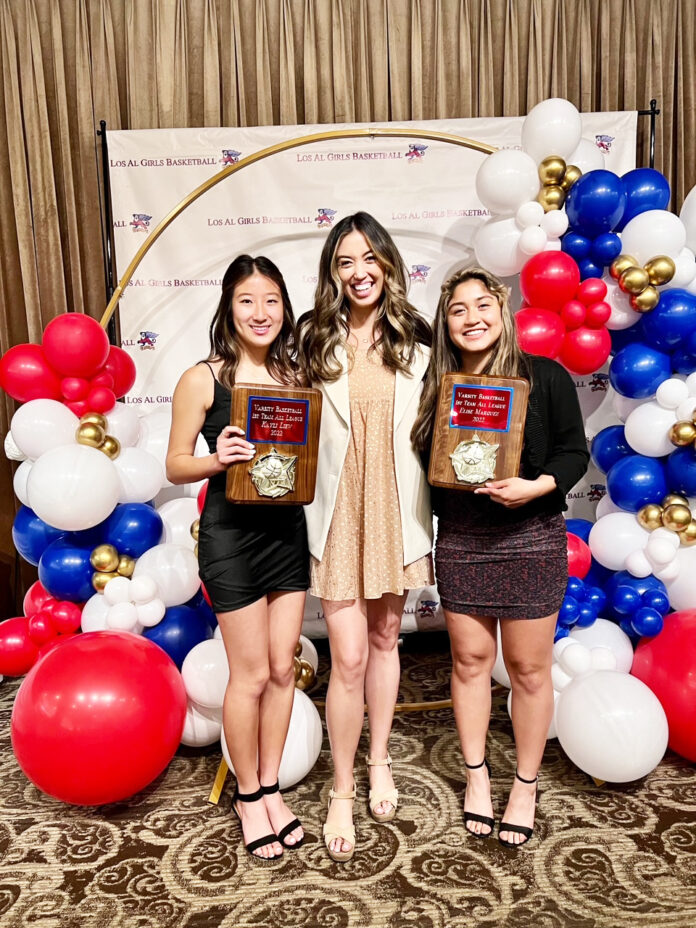 Griffin sophomores Kayli Liew and Elise Marquez were named to the First team All-Surf League Girls basketball squad, as selected by the league coaches.  The awards were announced by Coach Maya Kennedy at the team's year-end banquet on March 24.
The pair shared the point guard and shooting guard positions while leading Los Al to a 14-8 season record.  During league play, Liew averaged 13.7 points per game and Marquez averaged 10.3 points.  Liew also received the team's "Most Valuable Player" award for helping lead the Griffins to a #5 ranking in the CIF Southern Section 3A Division.
On the JV side, freshman point guard and scoring leader Katie Nakagawa was honored as MVP after helping to a 20-2 overall record and a co-championship in the Surf League with a 5-1 mark.
The Frosh-Soph team also ended the season with a Surf League title, and a 15-5 overall record and 4-0 in league.  Freshman point guard Brooklyn Hernandez earned team MVP honors.